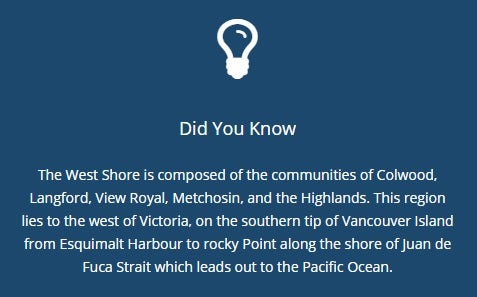 The West Shore communities are served by the West Shore Recreation Society, which runs several different facilities across the region, including several arenas, sports fields, and the popular Juan de Fuca Recreation Centre in Langford.

The area is also home to some of the most incredible parks on Vancouver Island, both popular and hidden. Some favourite local trips include swimming in Langford Lake in Langford, hiking in Havenwood Park in Colwood, exploring Witty's Lagoon in Metchosin, and summiting Lone Tree Hill in the Highlands. Each neighbourhood offers its own unique taste of West Coast outdoor adventures!


The West Shore communities are easily accessible by car from Victoria or upper Vancouver Island along the Trans-Canada highway or the Old Island Highway. Bus services are also constantly expanding throughout the region, connecting these communities to Victoria and Sooke, as well as increasing services within the communities themselves. Running from downtown Victoria through each of these communities and out to Sooke is the Galloping Goose Trail, a favourite protected pathway for commuter cyclists heading in any direction.